Select Aviation Services, LLC
100 Calumet Gardens, Suite 101 Mailing Address:
Madison, MS 39110 132 Adderley Blvd.
601-941-5800 Madison, MS 39110-9487
Email Contact:

brewer@selectaviationservices.com
2014 Beech Baron G58

Spring time is here! School will be out soon. It's time to start making plans for a new airplane for those trips for business or family travel...Wanting a true family SUV for those trips? I just listed a well equipped Navajo Panther conversion with two fresh Lycoming factory overhauled J2B engines. Upgraded with Garmin navigators, this no damage, air conditioned, 8 seater will be delivered with a fresh annual inspection in squawk free condition. Call today for more information. Also please click on 1976 Piper Navajo Panther on the left panel for complete specs and pictures. A really nice Cessna P201N Silver Eagle is also available. Based at Hawkins for the last 15 years, this pressurized turbine has great maintenance history along with an upgraded panel. Fly along in pressurized comfort in the flight levels with the speed and reliability of a turbine engine. Equipped with the "Plus 24 Percent" Engine Program, this engine produces 24 percent more power than the standard Silver Eagle engine making this one of the best performing Silver Eagles out there. Review the test report from the engine shop to see the difference. Click the "1979 Cessna P210N Turbine" link on the left side of this page for all the details on this plane. Call Brewer today to schedule your private showing of this nice pressurized single. We also have a nice Baron G58 based at Madison...With only 500 hours since new this one is loaded with Garmin G1000, Factory Air, Known Ice, and G&D Inserts. Check out the specs, pics, and logs on the panel to the left. Click on "2014 Beech Baron G58" for more info... Check out the specs, pictures, and logs on all of our inventory by clicking the link on the panel to the left.

Don't see what you're looking for in our inventory? Give us a call and we'll discuss how our "buyer's broker" or acquisition program can work for you....There are still some great opportunities out there you don't want to miss on the acquisition side but don't wait forever!..Our phones have been ringing with good interest in our current inventory...Nice well equipped airplanes are selling when priced according to market...Most of the market gurus are confident a seller's market is just around the corner...With the uptick in this Trump led economy, the prices on nice well-equipped aircraft (the ones everyone wants!) have started to move back up...Based on the way our phone is ringing I'm confident our overall economy is headed for some new highs!
Not flying as much as you used to? We have clients looking for nice aircraft that are not being utilized....There may be an opportunity for you to sell a portion of your plane and give someone else part of the fixed expenses while retaining use of your plane...Give Brewer a call today for a no obligation opinion on your ownership options.

Sales have been brisk! We are running out of inventory!....Let us buy or sell your aircraft for you...Thanks!





1979 Piper T-Tail Lance With New Engine
Interest Is Building For A Beech King Air 200/350 And A Beechjet Partnership Program Based Here In The Jackson, MS Area. This Professionally Managed And Flown Program Provides Turn-Key Answers To Your Transportation Needs. Plans Are For Informational Meetings Early First Quarter 2018. Contact Brewer For More Information On This Affordable Solution To Your Travel Needs...
Call Brewer To Learn More About The Exciting Line of TBM Aircraft!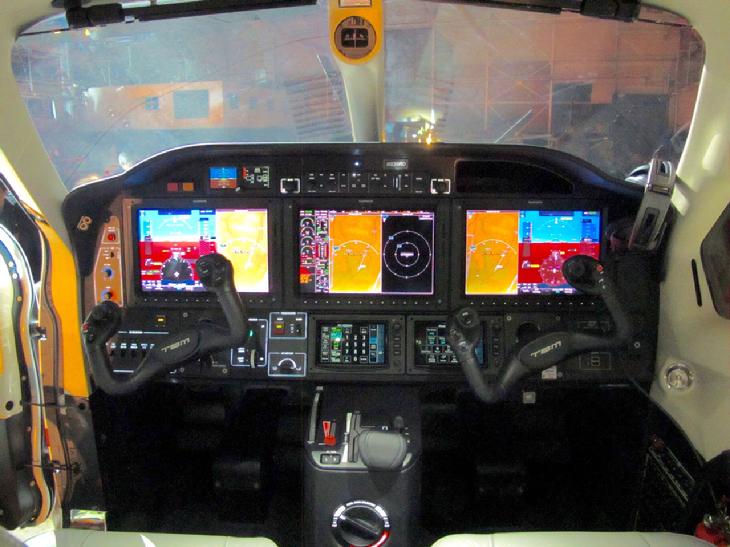 With The Garmin G3000 You Need To Call Brewer For An Appt.
Our reputation is best described by
our clients......and our banks.

Ask for a list of clients that utilize our services today!


| | |
| --- | --- |
| CHECK OUT OUR NEW INVENTORY FEATURE ON THE LEFT PANEL....CLICK ON THE AIRCRAFT TO VIEW PICTURES AND SPECS! | |

Headquartered in the Jackson, Mississippi area, Select Aviation Services, L.L.C. wants to be your one-stop source for all things general aviation.

Select Aviation Services specializes in serving all your general aviation needs. We offer aircraft sales and brokerage along with consulting and acquisition services. Aircraft management, appraisals, and professional pilot services are available for your convenience. We offer transition training and specialized advanced flight instruction in most singles and light twins. Our staff is ready to give you personal service in meeting all your needs with one phone call. Contact Brewer Pearson at 601-941-5800 today with your aviation questions and needs.
Want to stay in the "KNOW"? Email Brewer with your address and receive our free electronic newsletter each month. Designed to make you a better informed aviator, you can try it by emailing a request. You'll be glad you did!
| | |
| --- | --- |
| "Just the Nicest" | "Back In Time" |